Consider these organization ideas on the walls, floors, and ceilings
Your clients need more storage space in the garage, so what are some of the best options? Before you can even begin to use the garage as storage, it's best to ensure the space is a safe place for your client's belongings.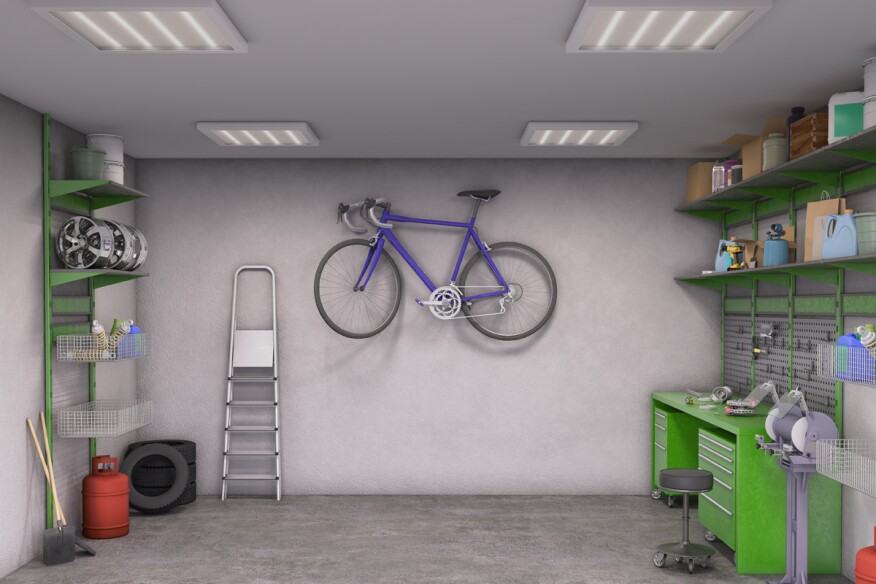 Storage ideas can range from very simple to complex. Whether it's toys, tools, or recreational equipment, with proper planning and some creativity, you can transform a client's garage into a functional storage space where every item has its place.
Making the Garage Storage Ready
The garage usually collects clutter, so recommend a good cleaning to remove unwanted items and any rubbish taking up valuable garage space. It's easier to estimate the amount of available space and make plans when the garage is clear of clutter.
Is the garage safe for storage? It is an extension of the home, so it's not always as warm and dry as the rest of the house. Check for leaks that may allow moisture in and ruin items in the garage.
Winterizing the garage is also a good suggestion for homeowners. The garage may be colder or hotter than the rest of the home. This means making sure there is adequate insulation and the garage door is working properly. Another suggestion may be adding heat or temperature control, so clients can use as desired.
Once it's determined there's no leaks or other possible catastrophes, you can recommend some remodeling ideas to give the clients the storage solutions they need.
Simple Storage Ideas
Suggest to your clients using all available space gives them ample storage. Some simple storage ideas utilize the walls, floor, and ceiling space.
Walls
Hooks, shelves, and cabinetry make excellent solutions for using available wall space. Hooks are versatile because they allow homeowners to hang up all sorts of items. Whether it's a bicycle, gardening tool, or ladder, hooks provide endless options.
Floors
Benches that double as storage boxes are a great idea to increase storage for a client's garage. You can custom build the benches to match the client's needs. Whether it's just to store miscellaneous items, like gardening or automotive accessories, adjustments to the bench can help meet their needs.
Ceilings
Utilizing overhead space greatly increases the overall storage space for clients. You can build an overhead rack out of PVC pipe or other materials to store items overhead. There's also the option of buying overhead racks to stow away bulky items, like totes and bins.
A more creative idea is building sliding storage overhead with bins that easily slide in and out to add or take items as the client needs them.
Tips to Give Clients
No matter what type of storage remodel the clients decides on, there are some tips you can give to help ensure their items are stored properly and safely.
Keep chemicals and toxic materials in a locked cabinet
Don't store flammable items near heaters
Consider additional storage needs for the future
Label all boxes or bins correctly to avoid confusion
Always allow sufficient space for doors to open
Don't cover any ventilation systems
With proper planning and measuring, you can come up with good storage solutions for any size garage your client has to work with. The garage is more than just a home for a car. It can be a workshop, a toyshop, or even a gardening center. These are things to keep in mind when deciding on solutions for differing homeowners.